Families looking forward to returning to the US following the November 8 border reopening could consider Philadelphia as a top option. The city has a multitude of attractions and events to offer each member of the family, no matter their age or interest. However long you have to explore the city, you will wish you had more time as the options are seemingly endless.
Attractions
The region offers plenty of family-friendly theme parks, zoos and aquariums to fill you days and thrill any age.
The city is home to America's first zoo- Philadelphia Zoo which has nearly 1,300 animals, and boasts a first-in-the-world animal travel system, Zoo360, which enables primates and big cats to move above and across the main visitor pathway.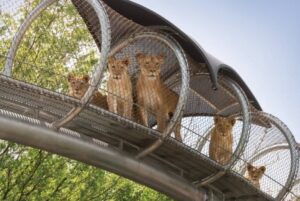 Above- Philadelphia Zoo
Sesame Place is the only theme park in the world dedicated to the beloved children's TV show. Wowing crowds with kid-friendly roller coasters, water rides and amusements, it is located a short drive north of the city.
Also a short drive from downtown Philadelphia, Crayola Experience is well worth the hour drive from Centre City. The crayon-inspired experience has multiple levels of arts and craft fun, including areas where you can melt crayons into sculptures, create spin art designs and make and name your own crayons.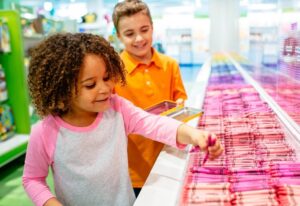 Above- Crayola Experience
Museums and Galleries
For children who love to press every button, flick every switch, and pull every lever, Philadelphia's Please Touch Museum is a must visit. Located in Fairmount Park West, the vast space is home to more than 12 permanent and temporary hands-on exhibits to help children discover the power of learning through play.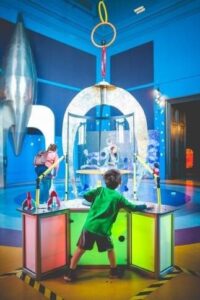 Above- Please Touch Museum
Founded in 1812, the Academy of Natural Sciences of Drexel University is the first natural sciences institution in the Americas. Dinosaur fans will find it hard to leave Dinosaur Hall which has more than 30 species represented, about half of which are full skeletal mounts. You can also view dinosaur eggs, footprints, sculptures, palaeontologist tools, a life-size model showing the internal anatomy of a Stegosaurus, and a green-screen video studio where they can project their own images into a world full of dinosaurs.
At the museum's Permian Monsters exhibit, which runs until January 17th 2022, visitors can explore what the world looked like before the dinosaurs and step back 290 million years to when bizarre-looking creatures dominated life on land and sea.
The Franklin Institute is one of America's most celebrated museums and is known for its all-ages, hands-on exploration of key science concepts, including a giant walk-through heart, planetarium, immersive brain exhibit and more.
In early 2022 the Harry Potter Exhibition will have its world premier at the Franklin Institute. This ground-breaking exhibition will celebrate the iconic moments, characters, settings, and beasts as seen in the films and stories of Harry Potter and the Wizarding World using best-in-class immersive design and technology.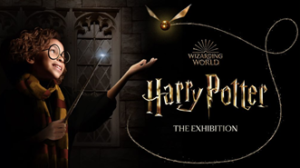 Outdoors
With one of the largest city-owned urban park systems in the world there is plenty of space for your littles ones to run around and let off steam. Families can stay active on land or water, with and walking and cycling trails throughout the city.
The city has as much to explore outdoors as it does in its numerous museums and galleries. Philadelphia has in fact been called the world's largest outdoor art gallery, most famous for its however the city's is similarly rich, with genres including textile art, stickers, mosaics, tiles and wheatpasting.
To explore the famous Philadelphia murals join Mural Arts Philadelphia for a walking, trolley, or train tour of the nation's largest public art program to learn more about the engine behind a citywide movement that has resulted in over 4,000 colourful murals in neighbourhoods throughout the city.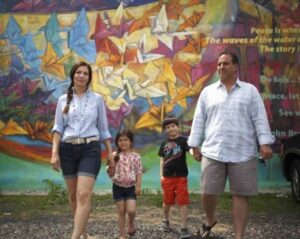 Above- Mural Arts Tour
Morris Arboretum is a 92-acre arboretum that is bursting with year-round greenery and plenty of kid-approved activities, including a 50-foot-high canopy walk and the Garden Railway. You can download activity cards
Dining
The fantastic dining experiences in Philadelphia are well renown and visitors of all age are sure to leave with satisfied and full bellies.
For families that can't agree on what to eat, Reading Terminal Market is the place to head to. One of America's largest and oldest public markets, housed since 1893 in a National Historic Landmark building, the Market offers a huge choice of dishes to choose from including Asian, Middle Eastern, Pennsylvania Dutch and Philadelphia classics, you are sure to find something to pleases even the fussiest of eaters. Feast on an incredible selection of locally grown & exotic produce, locally sourced meats and poultry, plus the finest seafood, cheeses, baked goods, chocolates, ice cream and other crave-worthy confections.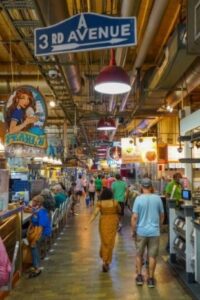 Above- Reading Terminal Market
Craft Hall opened as a new experiential dining destination. Created as a maker's space, the open concept highlights how the dishes are made, providing a unique experience and better understanding of the craftsmanship that goes into creating them. Located near the Delaware river in Northern Liberties, Craft Hall offers food and activities that the whole family can enjoy and was voted the "Best Bar for Parents" by Philadelphia Magazine, there is a pirate themed play area for the kids to enjoy whilst the adults sample the craft beer brewed on site.
For more information on family friendly dining in Philadelphia click here.
Festive Philadelphia
Philadelphia over the festive period is not to be missed and there are a host of fantastic Christmassy things to do that will please all the family.
Dilworth Park within the city centre gets a dramatic seasonal transformation with the Rothman Orthopaedic Institute Ice Rink, the Deck the Hall Light Show, Made in Philadelphia Holiday Market and Rothman Orthopaedic Institute Cabin.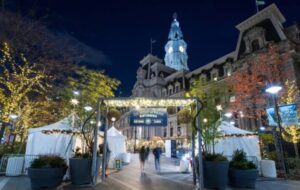 Above- Made in Philadelphia Holiday Market
LumiNature returns to the Philadelphia Zoo, featuring dozens of illuminating, animal-themed displays and Franklin Square will host a festive mini golf course, charming carousel, and the popular Electrical Spectacle Holiday Light Show, which features over 100,000 lights throughout the park that are accompanied by Christmas music.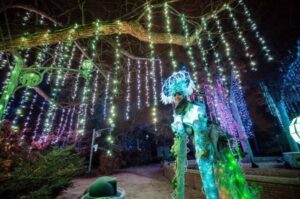 Above- LumiNature at Philadelphia Zoo
Philadelphia Christmas Village is a Philadelphia holiday tradition which takes place in LOVE Park and the northern part of City Hall. The pop-up market will feature over 110 local artisans and makers selling hand-crafted goods out of traditional German wooden shopping stalls. Popular kids' attractions within the Village include the Ferris Wheel and Kids Train and a two-tier holiday carousel plus there are daily live performances and themed weekend activities.
A Philadelphia tradition since 1956, the Macy's Christmas Light Show in the historic Wanamaker Building features whimsical holiday scenes made of over 100,000 LED lights, including a 34,500-LED tree, that dance along to classic tunes from the Wanamaker Organ (the largest playable instrument in the world).
For information on these and more family friendly festive fun click here.
The Philadelphia Convention and Visitor Bureau has produced a series of suggested itineraries for short stays in the city. Click here for a three-day family itinerary.
For current travel resources to Philadelphia, including details about the city's COVID-19 vaccine rate and restrictions plus tips on travelling to and exploring the city click here.
ENDS
For Further Press Information, please contact:
Anna Watt
anna@gregevansconsultancy.com
07815 898995
About Philadelphia Convention & Visitors Bureau
Philadelphia Convention & Visitors Bureau (PHLCVB), www.discoverPHL.com, a private non-profit membership corporation, is the official Tourism Promotion Agency for the City of Philadelphia globally, and the primary sales and marketing agency for the expanded Pennsylvania Convention Centre. The PHLCVB competes with its counterparts worldwide for convention and tourism business. The organisation has divisions dedicated to the multicultural, sports, and life sciences markets.