If you are looking for a romantic destination to whisk your loved one away to in 2022, look no further than Philadelphia. The City of Brotherly Love offers plenty of options for romantic love with luxurious hotels, picturesque gardens, intimate restaurants and so much more.
Snap and Smooch
A visit to Philadelphia is not complete without a stop at the famous LOVE Park, located in the heart of the city. Formally known as John F. Kennedy Plaza, the park is now affectionately referred to as LOVE Park thanks to Robert Indiana's LOVE statue, where couples flock to get an iconic selfie. The quintessential public art piece has been there since 1976 and is one of the most photographed spots in the city.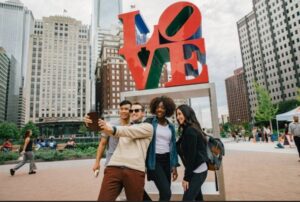 Like its LOVE Park counterpart, the AMOR statue is another great backdrop to a photo of you and your love. Located in Sister Cities Park, the six-foot-tall sculpture translates to "love" in both Spanish and Latin.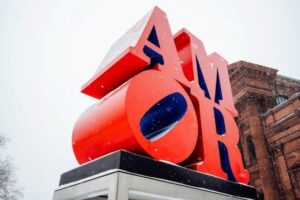 Romantic Art
Philadelphia is known as the Mural Capital of the World, with these large scale works of public art displayed on walls throughout the city.
One of the city's most popular mural projects is Steve Powers' A Love Letter For You. Composed of a series of 50 rooftop murals, these works can be collectively perceived either as messages from a lover to their partner, or as odes to the city itself. The series of pieces can be explored via a two-hour Love Letter Train Tour by nation's largest public art program, Mural Arts Philadelphia. They also offer a special Valentine's Day tours of the Love Letter murals in early February each year.
Romantic Strolls
With 37 public gardens, arboreta, and historic landscapes all located within 30 miles of Philadelphia, the region has more gardens in close proximity than anywhere else in the United States.
Couples can walk hand-in-hand through more than 1,000 acres of beauty at Longwood Gardens in nearby Kennett Square, plus there are tropical gardens and waterfalls to explore in the four acres of glass-enclosed conservatories. In Northwest Philadelphia, Morris Arboretum is a 92-acre garden that offers an ever-changing landscape of colourful gardens, champion trees, winding paths and water features. 30 minutes west of downtown you will find Chanticleer, which is known as pleasure garden, a 35-acre contemporary and imaginative botanical garden within a historic setting.
Something different
Fairmont Park's Whispering Benches allow couples a unique way to whisper sweet nothings to each other. Seated on benches at opposite sides of the Smith Memorial Arch, when they whisper into the monument, the bench carries the voice to their partner on the other side.
The Clay Studio offer a fun date experience with an evening of pottery-making by candlelight, complete with food and champagne. Once finished guests can explore the rotating exhibitions of ceramic works in the Studio's galleries and browse the gift shop to find an assortment of handmade items including mugs, artwork, gifts and more.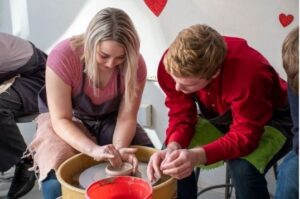 The Food of Love
Philadelphia's The Love restaurant is named to entice lovers. Just steps away from beautiful Rittenhouse Square, this bilevel sanctuary features an exciting drinks menu inspired by personal travels to vineyards, breweries and cideries in the region, and the creative cuisine is equally as enticing.
Harp & Crown offers a fun date night experience, with an upscale American restaurant by critically acclaimed chef and restaurateur Michael Schulson, offering a varied menu and exciting cocktails, plus an intimate bowling alley in the basement.
For something a little different, Double Knot is a Japanese speakeasy, also by Michael Schulson. The secret izakaya in the basement of a coffee shop offers sushi & robatayaki meats.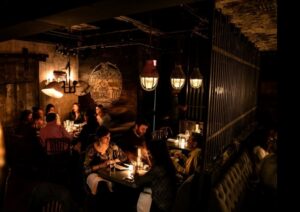 Romantic Stays
The luxurious Rittenhouse Hotel – a prestigious hotel located in the city centre, boasts a spa, indoor heated pool and sun terrace. For dining, Lacroix at The Rittenhouse is an award-winning restaurant that serves progressive international cuisine.
Located in the heart of downtown Philadelphia, the Notary Hotel is listed on the National Register of Historic Places and has decor inspired by the 1920s. Offering a compelling blend of historic architecture and modern luxury with bedrooms that are warm and welcoming including luxurious beds and marble bathrooms.
Soaring high above the city skyline, the Four Seasons Philadelphia at Comcast Centre offers luxury accommodations with uninhibited views of the city. For romantic pampering couples can have the Night Spa experience where they get to enjoy a couple's massage on the city's most coveted pool deck accompanied by champagne and a bouquet of roses, and then a dip in a private infinity-edge pool whilst soaking in the views.
Perfect for those that like a modern self-catering option, Lokal Hotel Old City is an "invisible service" boutique hotel, offering bright and airy rustic style apartments complete with kitchens and living areas, flat-screen TVs and iPads. There is even a grocery delivery service available so you don't need to shop for provisions.
For more information on romantic Philadelphia click here.
For current travel resources to Philadelphia, including details about the city's COVID-19 vaccine rate and guidelines, plus tips on travelling to and exploring the city click here.
ENDS
For Further Press Information, please contact:
Anna Watt
anna@gregevansconsultancy.com
07815 898995
About Philadelphia Convention & Visitors Bureau
Philadelphia Convention & Visitors Bureau (PHLCVB), www.discoverPHL.com, a private non-profit membership corporation, is the official Tourism Promotion Agency for the City of Philadelphia globally, and the primary sales and marketing agency for the expanded Pennsylvania Convention Centre. The PHLCVB competes with its counterparts worldwide for convention and tourism business. The organisation has divisions dedicated to the multicultural, sports, and life sciences markets