British Airways have recently announced the addition of a new flight to and from Newark Liberty International Airport which will launch in June and making it three daily routes from London Heathrow, as well as United Airlines' two daily flights from Dublin to Newark and Aer Lingus' daily flight from Dublin to Newark.
Located in northern eastern United States New Jersey is bounded by New York to the north and northeast, the Atlantic Ocean to the east and south, and Delaware and Pennsylvania to the west. The state boasts countless things to entice and entertain visitors, here are just some of the reasons you should visit New Jersey in 2022.
1) The Great Outdoors
There are over 130 miles of New Jersey beaches to enjoy, and over 50 seaside resort towns including Asbury Park, Atlantic City and Cape May. The spectacularly soft shoreline stretches from the top of Sandy Hook to the tip of Cape May Point, and there is a beach for everyone- families enjoy Long Beach Island and Point Pleasant, surfers and boogie boarders ride the surf at Manasquan. For a more low-key beach outing, Avalon, Ocean Grove, Spring Lake or Cape May are where to head. A more hipster vibe can be enjoyed at Asbury Park which features one of the best beaches in the state.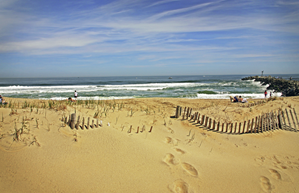 Above- Manasquan, photo courtesy of The New Jersey Division of Travel and Tourism
There are many natural wonders in New Jersey. Pinelands (or Pine Barrens) cover over one million acres of farms, forests and wetlands near Hammonton, occupying 22% of New Jersey's land area and it is the largest body of open space on the Mid-Atlantic seaboard between Richmond and Boston. It is home to blueberries, renowned cranberry bogs and dozens of rare plant and animal species including the ubiquitous Jersey Devil.
Paterson Great Falls National Historical Park is where you can find Great Falls of the Passaic River, one of the highest waterfalls in the country. This 77ft high 260ft wide waterfall was at the forefront of the American Industrial Revolution and was the venue for harnessing its hydro power to drive machinery.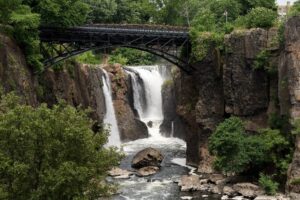 Above- Patterson Great Falls. Photo courtesy of The New Jersey Division of Travel and Tourism
A host of outdoor activities can be enjoyed year-round in the state of New Jersey, top tips include hiking along the New Jersey portion of the Appalachian National Scenic Trail, which stretches more than 2,180 miles from Georgia to Maine. Book a rafting tour and float downriver at the Delaware Water Gap National Recreation Area. Paddle your way through Great Egg Harbour River, a 129-mile river system that flows through Pinelands National Reserve or canoe or kayak the Lower Delaware National Wild and Scenic River, the largest free-flowing river on the eastern side of the country.
2) Food
New Jersey is a delight for foodies. Famous for iconic foods such as hoagies, Italian Hot Dogs, Rippers, Port Roll, Tomato Pie and Salt Water Taffie, however it also has a burgeoning food scene which you can explore through trendsetting eateries, artisanal coffee shops or gourmet food stores. Read more about current local food trends here.
You can now take in the culinary roots of late celebrity chef, bestselling author and TV personality Anthony Bourdain, who spent most of his childhood growing up in the state. An itinerary launched by the New Jersey Division of Travel and Tourism spotlights 10 New Jersey restaurants featured on Bourdain's Emmy Award-winning TV series 'Anthony Bourdain: Parts Unknown', including Fort Lee institution Hiram's Roadstand- Bourdain's "happy place", Tony's Baltimore Grill in Atlantic City and Donkey's Place in Camden which serves cheesesteak he claimed "should be a national landmark".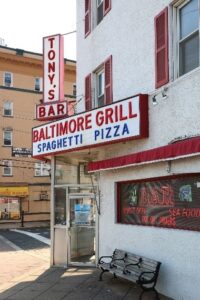 Above- Tony's Baltimore Grill in Atlantic City. Photo Credit: Meet AC
3) Attractions
With world-class attractions located throughout the state no visitor can claim to have nothing to do in New Jersey. Just a few of these include:
Liberty State Park is one of the state's most dramatic parks, with the Manhattan skyline, Statue of Liberty and Ellis Island as a spectacular backdrop. Here visitors can walk, run or ride Liberty Walk, a two-mile promenade, visit the Liberty Landing Marina, the NJ Empty Sky 9/11 Memorial and state-of-the-art Liberty Science Centre. You can also take a ferry to Ellis Island and the Statue of Liberty.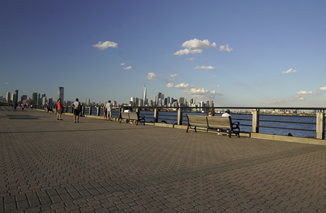 Theme Park fans should head to American Dream, located in East Rutherford, which is the Western Hemisphere's largest theme park, home to thrilling rides and experiences, including DreamWorks Water Park, Nickelodeon Universe Theme Park and the new Observation Wheel, with unveiled views of New York City's skyline from 235 feet in the air. In Jackson Township Six Flags Great Adventure's newest addition is Jersey Devil which is the world's tallest single-rail coaster.
Grounds for Sculpture was created to make contemporary sculpture more accessible. This sprawling garden provides a casual setting for visitors to stroll through its 42 manicured acres to enjoy over 400 contemporary works of art.
4) Fascinating history
New Jersey has a long and distinguished history that dates back far before the American Revolution, in which the state played a pivotal role. You can discover New Jersey's rich history and heritage through many of its historical attractions. Study artifacts in museums such as New Jersey's State Museum and Newark Museum or see 'live history' in recreated villages such as Historic Cold Springs Village, Allaire Village and Batsto Village where historically clothed interpreters give demonstrations and answer questions. Alternatively follow the trail that American and French soldiers took from 1781-1782 during the Revolutionary War whilst exploring the 680-mile Washington-Rochambeau National Historic Trail.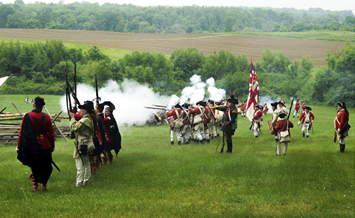 https://visitnj.org/American-RevolutionNew Jersey Division of Travel and Tourism have created three- and four-day American Revolution Trip Itineraries, which show you how you can experience for yourself the historic sites, memorials and monuments that find their home in charming towns, cosy villages and vibrant cities throughout the state.
5) Music
New Jersey has a rich music history, Bruce Springsteen, Jon Bon Jovi and Frank Sinatra all hail from here.
Visit the Bruce Springsteen Live! Exhibit at the Grammy Museum Experience at the Prudential Centre, the exhibit explores the evolution of Springsteen through the decades and grants exclusive backstage access to Springsteen legendary performances.
Catch a gig in Asbury Park, the music mecca of New Jersey. The Stone Pony is a club that has been central to the town's music scene since 1974 and launched the careers of Bruce Springsteen and Bon Jovi.
SOPAC, in South Orange, is unlike most venues in the US. A non-profit multidisciplinary arts centre which hosts a variety of performances in an intimate live performance space, from dance and theatre, to family and music concerts. Its superb acoustics and small size create a unique and intimate connection between artists and audiences.
As well as at indoor venues, you can catch live performances at the many music festivals that take places throughout the year. Exit Zero Jazz Festival has become known as one of the most respected and creative jazz festivals in the country. It takes place in Cape May twice a year, every Spring and Fall, the next one takes place from May 13th to 15th. From June 16th -19th in Wildwood, country music lovers can see Eric Church, Cole Swindell and Jason Aldean at the second annual Barefoot Country Music Fest, the state's largest country music festival. Sea.Hear.Now is a music, art and ocean sustainability festival featuring a professional surfing competition. The line-up for this year's event, which takes place on September 17th and 18th is yet to be announced but last year Pearl Jam, The Avett Brothers and Billy Idol performed among others, so expect more big names this year.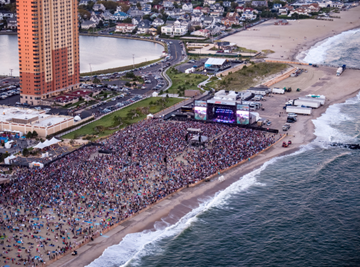 6) Shopping
The shopping options in New Jersey are plentiful, from upscale boutiques to bargain-friendly outlets, flea markets and discount malls, the variety of shopping in New Jersey is plentiful and with no retail tax on clothing or shoes, there's extra need to pack light and come home heavy.
Designer items at a fraction of the original cost can be found at the many outlet malls dotted throughout the state, popular ones include The Mills at Jersey Gardens, The Mall at Short Hills and Jackson Premium Outlets which shoppers often visit by bus tours from New York in order to bag a bargain. American Dream is a 3-million-square-foot mall and one of the largest in North America.
A more "Main Street" vibe can be found in retail districts such as Historic Smithville and Village Green offering one-of-a-kind shops and attractions or for more exclusive retail therapy Princeton University town's Palmer Square offers a stunning collection of brand-name shops and one-of-a-kind boutiques in a refined outdoor setting.
For more reasons to visit New Jersey click here.
To start planning a New Jersey holiday, visit www.visitnj.org
Follow the New Jersey Division of Travel and Tourism on Facebook, Instagram, Twitter and YouTube for more events and news throughout the state.
ENDS
About New Jersey
New Jersey provides a wide variety of experiences to visitors all year long. Travellers can enjoy outdoor adventures, renowned culinary offerings, educational opportunities, and a strong arts and cultural scene. With numerous state and national parks, beaches, skiing, tax-free shopping, historic sites, museums and more, New Jersey blends together its rich history and exciting present. Home to the nation's first beach resorts and the birthplace of major inventions, New Jersey offers picturesque escape opportunities for all ages.
For more information, explore VisitNJ.org.
PR Contact:
Greg Evans Consultancy
Anna Watt, PR Director anna@gregevansconsultancy.com 07815 898995