Philadelphia is a top choice for those wanting the perks of staying in a city but with plenty of outdoors experiences. Within its huge urban park system (one of the largest in the United States) you can explore over 100 parks, squares, and recreation sites totalling over 10,000 acres. Enjoy its expansive public art offering, run, walk, or cycle throughout the city or just relax and take in the scenes at one of the many open-air bars, restaurants, and cafés.
Philadelphia is known as America's Garden Capital, with 37 public gardens, arboreta, and historic landscapes all located within 30 miles of city, the region has more gardens in close proximity than anywhere else on the continent. The America's Garden Capital Passport is a new guide providing information and tips for the best experiences at each garden.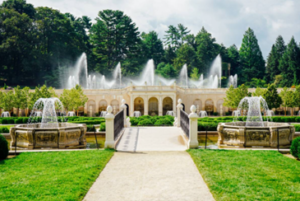 Longwood Gardens, Photo by K. Huff for PHLCVB
As well as an abundance of nature, in Philadelphia you can enjoy many different types of art in the open-air including sculpture, architecture, mosaics, and murals. Thousands of pieces have been made possible by The Association for Public Art (aPA), founded in 1872, it works to preserve and commission original works as well as help artists and community groups work together to create new pieces for individual neighbourhoods. The Association also helps visitors learn about Philadelphia's exceptional collection of public art through interactive maps and self-guided tours as well as publications, exhibitions, conferences, workshops, and lectures.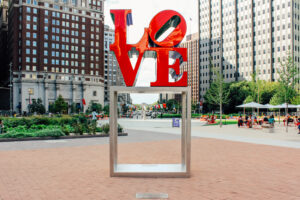 LOVE Park Love Statue, Photo by K. Huff for PHLCVB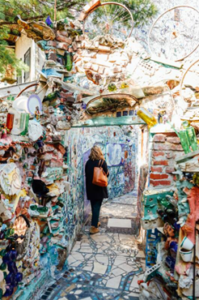 Philadelphia Magic Gardens. Photo by K. Huff for PHLCVB
Boasting over 4,000 murals, Philadelphia is the Mural Capital of the World and has become the largest outdoor art gallery. Mural Arts Philadelphia started as an anti-graffiti program in 1984 and is now part of a larger campaign by the city to repurpose public spaces, create positive dialogue in communities, and restore existing murals. About 50-100 new pieces are commissioned each year. Mural Arts helps residents and visitors discover the collections by organising various tours which can be taken on foot, by car, train, Segway, or virtually. Read more about Mural Arts' tour program here.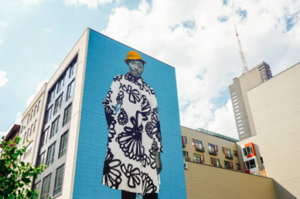 Untitled Amy Sherald mural, Photo by K. Huff for PHLCVB
Those wanting to keep active during their visit to Philadelphia can explore the city's outdoor spaces by bike or on foot. There are many hike and bike trails threading throughout the Philadelphia region. The Schuylkill River Trail cuts through the city and includes the Manayunk Towpath, Kelly Drive, Boathouse Row, and the Schuylkill Banks Boardwalk, where you can walk or ride over the Schuylkill River while taking in skyline views. For a lengthier adventure, take the trail 25 miles to Valley Forge National Historical Park, site of the notorious Revolutionary War campaign.
The Trolley Trail, just off MLK Drive, is a 4.5-mile loop trail near Bala Cynwyd which follows a former trolley route, winding through tunnels and other structures such as the Stone Arch Bridge. Or you can head into the woods at Wissahickon Valley Park and explore its 50 miles of trails. Look out for the hidden landmarks which include a covered bridge originally built in 1737, artist Jody Pinto's Fingerspan pedestrian bridge and the 1883 Toleration statue of William Penn.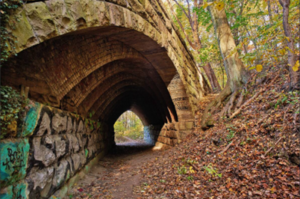 Trolly Trail. Photo by Albert Yee
You can also combine fitness with sightseeing with SeePhillyRun tours where you take in running trails throughout the city, stopping along the way to learn more about historical sites, cultural institutions and public art.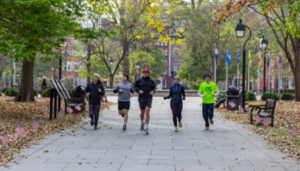 Washington Square, Photo courtesy of SeePhillyRun
For a more sedate outdoor experience, you can enjoy Philadelphia's exciting and diverse gastronomic offerings, with many restaurants offering al fresco dining. There is also an abundance of seasonal pop-up parks and beer gardens offering various open-air dining and entertainment options. Click here to read more about Philadelphia's pop-up parks and beer gardens.
For more ways to enjoy the outdoors in Philadelphia Click here.
For current travel resources, including details about the city's COVID-19 vaccine rate and guidelines, plus tips on travelling to and exploring the city, click here.
-ENDS-
For Further Press Information and high-resolution images, please contact:
Anna Watt – Philadelphia UK Office
Tel: 07815 898995
Email: anna@gregevansconsultancy.com
About Philadelphia Convention & Visitors Bureau
Philadelphia Convention & Visitors Bureau (PHLCVB), www.discoverPHL.com, a private non-profit membership corporation, is the official Tourism Promotion Agency for the City of Philadelphia globally, and the primary sales and marketing agency for the expanded Pennsylvania Convention Centre. The PHLCVB competes with its counterparts worldwide for convention and tourism business. The organization has divisions dedicated to the multicultural, sports, and life sciences markets.