Philadelphia is a well-known arts hub, boasting more public art than any other American city, and home to a vast number of art museums and galleries. It is a city which is sure to satisfy any aesthete and with a number of high-profile exhibitions coming to Philadelphia over the next few months, now is the time to plan your next visit.
Art in Museums
The majestic Benjamin Franklin Parkway which was modelled after the Champs-Élysées in Paris, is dubbed Philadelphia's "Museum Mile". Here you will find most of the city's premier cultural institutions including the Philadelphia Museum of Art which last year unveiled 90,000 square feet of new and reimagined public and exhibition space as part of the Frank Gehry-led Core Project. Included in the project are a reimagined West Entrance and Lenfest Hall, a new multilevel Forum space and 20,000 square feet of new gallery space, including new early American art and modern and contemporary galleries — marking the largest installation of new exhibition space since the building opened in 1928.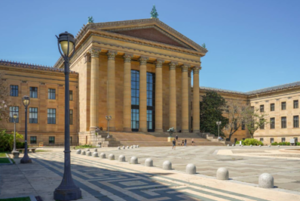 Above: Philadelphia Museum of Art. Photo by K. Huff for PHLCVB
Matisse in the 1930s will be showing at the Philadelphia Museum of Art from October20, 2022 to January 29, 2023. A visit to Philadelphia in 1930 inspired Matisse to develop a new creative approach and outlook. This will be the first exhibit to ever be dedicated to that pivotal decade in his art, showing more than 100 of Matisse's works, including renowned and rarely seen paintings and sculptures, drawings, prints, and illustrated books.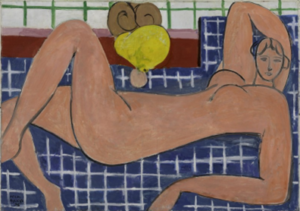 Henri Matisse "Large Reclining Nude" 1935. 26 1/8 × 36 3/4 inches (66.4 × 93.3 cm). Oil on canvas, Baltimore Museum of Art: The Cone Collection, formed by Dr. Claribel Cone and Miss Etta Cone of Baltimore, Maryland, 1950.258. © 2022 Succession H. Matisse/Artists Rights Society (ARS), New York.
The Barnes Foundation houses the world's largest private collection of Impressionist and post-Impressionist masterpieces, featuring pieces by world renown artists including Renoir, Cézanne, Matisse, Picasso, Monet, Manet and Degas. These well-known artists' works are complemented by Native American pottery, Pennsylvania German decorative furniture and various ceramics and metalwork, as well as sculpture and art from Mexico, China, Africa, early Greece and Rome.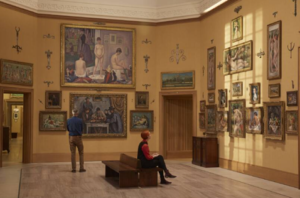 Above- Barnes Foundation, Photo courtesy of the Barnes Foundation
Coming to the Barnes Foundation later this year is Modigliani Up Close, showing from October 16, 2022 to January 29, 2023, the exhibition takes a close look at how Modigliani created his works, which are portraits and nudes often characterised by a surreal elongation of faces and necks.
Towards the eastern end of the Benjamin Franklin Parkway is the Pennsylvania Academy of the Fine Arts which was founded in 1805 by Charles Wilson Peale. It is the first and oldest art museum and art school in the United States. The museum houses a renowned collection of American paintings from the 1760s to the present although it is best known internationally for its collections of 19th- and 20th century paintings, sculptures and works on paper.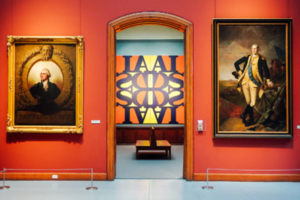 Above: Pennsylvania Academy of Fine Arts. Photo by K. Huff for PHLCVB
Moore College of Art and Design was founded in 1848 as the first and only women's visual arts college in the United States. The Galleries at Moore introduce the work of significant regional, national and international artists through exhibitions and educational programs.
Public Art
There are thousands of pieces of incredible public art to admire throughout the city, which is considered the largest outdoor art gallery in the world. Read more about key pieces of Philadelphia's public art here. You can discover these and more on a group of self-guided tour, by foot, bike, Segway or bus.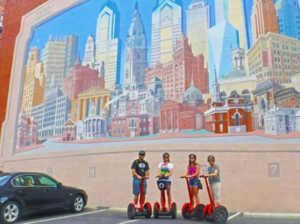 Above: Mural Segway Tour. Photo courtesy of WeVenture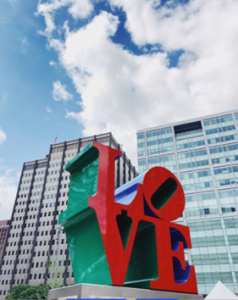 Above: LOVE Park. Photo by K. Huff for PHLCVB
The huge amount of public art is thanks to a number of organisations. The Association for Public Art was founded in Philadelphia in 1872 and is the country's first private entity dedicated to public art. Its mission is to commission, preserve, interpret and promote public art in the city. The Association has created six self-guided tours which are free to download here.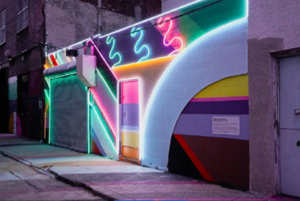 Above: Electric Streets Mural. Photo by K. Huff for PHLCVB
The Philadelphia Redevelopment Authority's Percent for Art Program, which was established in 1959, resulted in the city becoming the first in the nation to require most property developers to dedicate a percentage (about one percent) of the project's construction budget to commission a new piece of art. The program has resulted in more than 650 works that can be found throughout the city and include sculptures on public streets, paintings that brighten underground subway stations and unusual light displays.
Over 4,000 murals can be found throughout the City of Philadelphia, making it the "Mural Capital of the World." Mural Arts Philadelphia started as an anti-graffiti program in 1984 and has grown to be an international leader having activated some of Philadelphia's most unassuming locations repurposing public spaces. They run a number of different public tours, read more here.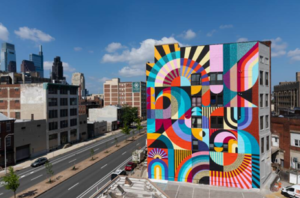 Folding the Prism © 2019 Mural Arts Philadelphia Photo by Steve Weinik
As well as sculpture and murals, more unusual public art found in Philadelphia includes mosaic, the most prominent local artist in this medium being Isaiah Zagar who has been creating public mosaics since the 1960's, his largest work being Philadelphia's Magic Gardens which spans three city lots, the equivalent to half a block.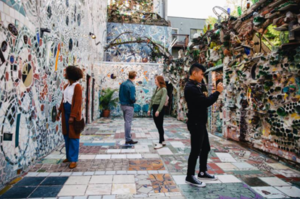 Above: Philadelphia's Magic Gardens. Photo by M. Zugale for PHLCVB
Other public art forms to look out for include Toynbee Tiles which are sidewalk plaques with oft-cryptic messages, first noticed in Philadelphia in the 1980s and yarn or textile art, also known as Yarn bombing or graffiti knitting (amongst other things).
Read more about Philadelphia's street art here.
For current travel resources to Philadelphia, including details about the city's COVID-19 vaccine rate and guidelines, plus tips on travelling to and exploring the city click here.
-ENDS-
For Further Press Information and high-resolution images, please contact:
Anna Watt – Philadelphia UK Office
Tel: 07815 898995
Email: anna@gregevansconsultancy.com
About Philadelphia Convention & Visitors Bureau
Philadelphia Convention & Visitors Bureau (PHLCVB), www.discoverPHL.com, a private non-profit membership corporation, is the official Tourism Promotion Agency for the City of Philadelphia globally, and the primary sales and marketing agency for the expanded Pennsylvania Convention Centre. The PHLCVB competes with its counterparts worldwide for convention and tourism business. The organization has divisions dedicated to the multicultural, sports, and life sciences markets.