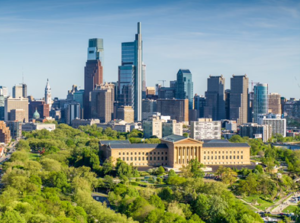 The city of Philadelphia has numerous reasons to entice UK and Irish visitors back once the border opens up in November. With a full diary of exciting events throughout the next year, some fantastic new openings to explore as well as the long-time old favourites to re-visit, Philadelphia is an East Coast favourite that doesn't fail to impress.
Getting there
Philadelphia's central location on the East Coast — just 90 minutes from New York City and just over two hours to Washington, D.C. — is the perfect starting point to any American adventure. It is easily accessed from the UK with a seven-hour direct flight from London Heathrow operated by British Airways (four times a week) and American Airlines (daily) and boasts some of the shortest customs and immigrations processing times in the United States.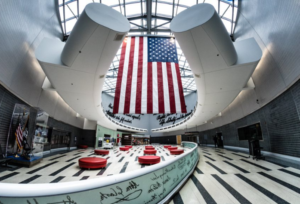 Once visitors arrive at Philadelphia International Airport, the city is easily accessed, it's a 25-minute ride by train or a 20-minute ride in a taxi to the city centre.
Click here to read more about transportation around Philadelphia.
Staying
With over 14,400 hotel rooms in the city centre, Philadelphia has an extensive offering of accommodation types to cover all budgets, with most major hotel brands plus an impressive range of independent and boutique properties located throughout the centre and beyond.
There have been a number of exciting new hotel openings during 2021, these include the eco-conscious Element Philadelphia, luxurious W Philadelphia, the historic Guild House Hotel and the entertainment and gambling mecca of Live! Casino & Hotel.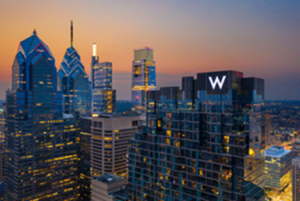 For information on Philadelphia's new hotels click here.
Exploring
Philadelphia is considered one of the most walkable large cities in the United States, is incredibly bike friendly, and is home one of the largest city-owned urban park systems in the world. Visitors can surround themselves in the great outdoors all year round, whether it's exploring the city's historic sites and urban parks on foot, hiking or biking around Philadelphia's 270 miles of scenic trails or marvelling at the mosaics and murals whilst wandering through the city's open-air art gallery. Click here to read more about discovering Philadelphia's outdoor spaces.
The Philadelphia Convention & Visitors Bureau has recently launched a series of itineraries to aid planning your trip to the city, focusing on popular themes including By The Book, which explores the city's rich history, Art Lovers, which looks into the city's rich art and cultural offering, and Unexpected, which takes you off the beaten park to see some unique and often bizarre hidden gems. Click here to read more.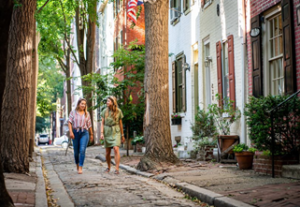 New Arts and Cultural Experiences
Philadelphia's art and cultural offering is a strong pull for international visitors, exhibitions to look forward to next year include:
The world premiere of Harry Potter: The Exhibition global tour will be taking place at The Franklin Institute in early 2022. This ground-breaking exhibition will celebrate the iconic moments, characters, settings, and beasts as seen in the films and stories of Harry Potter and the Wizarding World using best-in-class immersive design and technology. Click here for further information.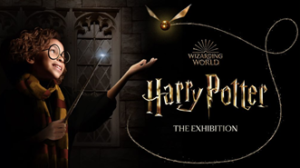 In early 2023, look for The Franklin Institute to host yet another world premiere, the Walt Disney Company's 100-year anniversary exhibition.
Now on view, Jasper Johns: Mind/Mirror at Philadelphia Museum of Art marks first major museum retrospective of the iconic artist on the East Coast in a quarter of a century. The unprecedented collaboration is on view concurrently in Philadelphia and at the Whitney Museum of American Art in New York until 13 February 2022. Tickets to the exhibition are free with admission to the Philadelphia Museum of Art. For further details on the exhibition click here.
The newly opened Neon Museum of Philadelphia displays over 120 neon signs and artworks and is dedicated to preserving historic signage as an important element of community heritage in Philadelphia and America. The Museum also promotes neon art and appreciation of the 20th century American roadside. Click here to find out more.
Dining
Philadelphia has a booming food scene, from high end restaurants with award-winning chefs to food hall favourites, there's something to excite every palate.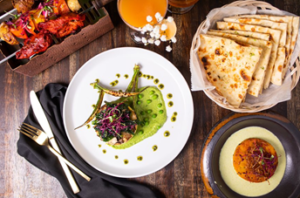 Above: Ancient Spirits and Grille
The city's celebrated restaurant scene has welcomed several top accolades this year including Israeli grill Laser Wolf, named one of Condé Nast Traveler's Best New Restaurant in the World, plus a number of new dining and drinking experiences that have opened up. Highlights include:
Ancient Spirits and Grille in Rittenhouse Square is the world's first Ayurvedic herb restaurant and lounge bar serving European cuisine rooted in Ayurvedic principles. Patrons answer a short series of questions via a mobile app that helps their server personalize food and drink recommendations tailored to their physical makeup and metabolism.
At La Chinesca on Spring Garden Street, Chinese-American and Northern Baja cuisine meet inside a former pumping station, making something unique for Philadelphia.
No trip to Philadelphia is complete without a trip to the world-famous Reading Terminal Market, one of America's largest and oldest public markets, offering an incredible selection of locally grown and exotic produce as well as a huge choice of eateries. New additions this year include the Filipino restaurant Tambayan, and Ma Lessie's Chicken & Waffles serving southern style soul food. In 2021, Reading Terminal Market was voted the best public market in the United States by USA Today 10Best.
For more information on eating and drinking in Philadelphia click here and to read more about new restaurants in Philadelphia click here.
Exciting Annual Events
Many fantastic events draw visitors from across the world into Philadelphia each year, whether you are into culture, nature or love to party, you are sure to be kept entertained.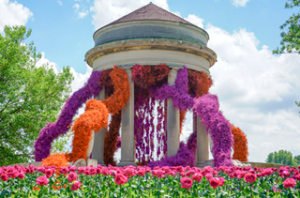 Above: Philadelphia Flower Show
The holiday season is a wonderful time to be in Philadelphia with a host of events taking place throughout the city, including open air ice rinks, pop up markets and spectacular light shows. On New Year's Day the annual Mummers Parade takes place along Broad Street, one of the oldest folk parades in the United States.
The Philadelphia Flower Show is the largest and longest-running horticultural event in the United States (since 1829), the event features breath-taking displays by the world's premier floral and landscape designers. It will take place outdoors at FDR Park for only the second time in its nearly 200-year history, from 11-19 June 2022, with the theme of "In Full Bloom," focusing on the recuperative powers of the garden.
Philadelphia PrideDay is one of the largest celebrations of LGBTQ+ pride in the nation, attracting more than 25,000 people each year to the city's Gayborhood community for a march along Market Street. The event is usually held each June during National Gay Pride Month.
The Philadelphia Marathon, in November, is one of the top 10 marathons in the U.S as well as being one of the fastest courses in the country. It includes a full marathon, half marathon, 8K and kids' fun run and is a great way to see America's Historic Mile and sites throughout Fairmont Park.
For further information on Philadelphia's annual events click here.
For more information on Philadelphia, visit the Philadelphia Convention & Visitors Bureau's website, www.discoverPHL.com
-ENDS-
For Further Press Information, please contact:
Anna Watt – Philadelphia UK Office
Tel: 07815 898995
Email: anna@gregevansconsultancy.com
About Philadelphia Convention & Visitors Bureau
Philadelphia Convention & Visitors Bureau (PHLCVB), www.discoverPHL.com, a private non-profit membership corporation, is the official Tourism Promotion Agency for the City of Philadelphia globally, and the primary sales and marketing agency for the expanded Pennsylvania Convention Centre. The PHLCVB competes with its counterparts worldwide for convention and tourism business. The organization has divisions dedicated to the multicultural, sports, and life sciences markets.