Philadelphia offers visitors an almost endless choice of things to see and do, and with a host of exciting new openings in the pipeline for this year as well as some fantastic events, there is now even more reason to come and explore the City of Brotherly Love.
EXHIBITIONS
Harry Potter: The Exhibition at The Franklin Institute
Celebrate the iconic moments and characters of Harry Potter and the Wizarding World in this ground-breaking exhibition at The Franklin Institute. The exhibition will bring magic to life using best-in-class immersive design and technology, as visitors engage with innovative and magical environments. Guests will also get an up-close look at props and costumes from the Harry Potter and Fantastic Beasts films. The world premiere for Harry Potter: The Exhibition is on 18th February, with the magical exhibition on view through to September 2022.
Don't Miss– Harry Potter would feel right at home at The Couldron Magical Pub, the fantasy-themed bar set to open on 20th May at 1305 Locust St. Here you can experience a potion making immersive class where you step into the imagined worlds of your childhood through molecular mixology, science and technology.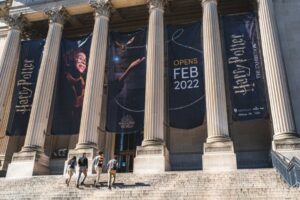 Above- Harry Potter: The Exhibition. Photo courtesy of The Franklin Institute
Liberty: Don Troiani's Paintings of the Revolutionary War at the Museum of the American Revolution.
Those interested in American history will be fascinated with this exhibition which immerses visitors in the dramatic and research-based works of Don Troiani, a nationally renowned historical artist who brings the compelling stories about the diverse people and complex events of the American Revolution to life. The works, which will be on public display together for the first time, will be paired with artifacts that either inspired or are featured in Troiani's paintings, including weapons, textiles, and more, presenting viewers with a one-of-a-kind snapshot of key moments from the war. Open now, until 5th September 2022.
Don't Miss – Philadelphia, known for where American democracy was founded, is a playground for history buffs, boasting 67 National Historical Landmarks in what's called the nation's "most historic square mile." Click here for Philadelphia's Historic District Itinerary.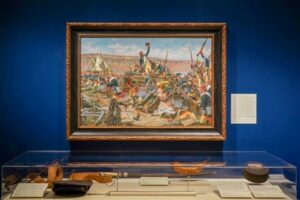 Above: Don Troiani's Paintings of the Revolutionary War. Photo by K. Huff for PHLCVB
Deconstructing Bowie: Freedom in Eccentricity at the National Liberty Museum
Another British export is celebrated in Philadelphia, with a special exhibition acknowledging the legacy of the influential, genre-defying musician, David Bowie. Various artworks created by multiple generations of artists who were inspired by the cultural icon are on display and are available for purchase. Open now until 15th April 2022.
Don't Miss – All music fans will love live music in Philadelphia. The city is famous for homegrown talent like Hall & Oates, Teddy Pendergrass, The Roots, Will Smith, Schoolly D, and many others. In 1985, Philadelphia and London hosted the dual-venue benefit concert, Live Aid, to raise awareness about the AIDS epidemic. Since, Philadelphia has fostered innovations in classical music, opera, R&B and hip-hop, jazz, dancehall, and other genres. Though Philadelphia's musical history and heritage pre-dates the city itself, music is alive and well and very much the heartbeat of the city today. Click here to read more.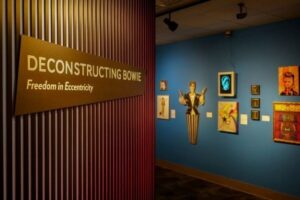 Above: Deconstructing Bowie: Freedom in Eccentricity. Photo by J. Ryan for PHLCVB.
Light: Installations by Bruce Munro at Longwood Gardens
Artist Bruce Munro returns to Longwood Gardens in Philadelphia's beautiful countryside to present an entirely new, breath-taking exhibition, Light: Installations by Bruce Munro. Eight installations will span Longwood's 1,000 acres, including the garden's picturesque indoor spaces and outdoor vistas. Visitors can explore the Field of Light, featuring 18,000 illuminated bulbs adorning the landscape in the middle of the lakes and throughout the gardens. Light is on display June 30 – October 30, 2022. Tickets will be available from 7th March, 2022.
Don't Miss – Outdoor art is in abundance in Philadelphia. Three local programs – the Association for Public Art, Percent for Art and Mural Arts Philadelphia – are national leaders in creating, growing, maintaining, and promoting publicly-accessible art. Visitors can stroll through Philadelphia to see sculpture, architecture, mosaics and murals as well as unofficial street art. Click here to read more.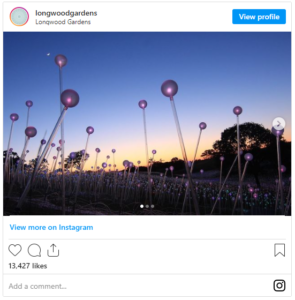 The Stories We Wear at The Penn Museum
The Penn Museum is showcasing 2,500 years of style from civilizations from around the globe via a 3,700-square-foot exhibition. The Stories We Wear is a collection of approximately 250 objects including attire, jewellery, uniforms, regalia, and tattoos. The exhibition is organized into five different themes, highlighting how people dressed for ceremonies, performances, battles, work and play, and to rule, with artifacts including a 19th century opera robe from China, a samurai sword dating back to 1603, and contemporary objects such as a full Philadelphia Eagles uniform. Running until 12th June 2022.
Don't Miss– Expand your wardrobe at Fashion District Philadelphia, the largest cohesive retail project in downtown Philadelphia spanning three city blocks. Take advantage of tax-free shopping on clothes and shoes – bargains are plentiful. Click here to read more.
Sean Scully: The Shape of Ideas at the Philadelphia Museum of Art
This spring, the work of Sean Scully, deemed one of the leading abstract artists of our time, will be on display at the Philadelphia Museum of Art. The exhibition will highlight the artist's unique contributions to contemporary art through his signature stripes and bold experimentation with scale and composition. This exhibition has been expanded to include additional paintings throughout several galleries, totalling more than 100 of Scully's works, dating from the early 1970s to the present. On view from 11th April to 31st July 2022.
Don't Miss – Philadelphia has more public art than any other city in the U.S. Click here for some suggestions of other iconic art to view whilst here.
EVENTS
For the second year in a row, the Pennsylvania Horticultural Society (PHS) Philadelphia Flower Show – the nation's largest and the world's longest-running horticultural event – will transform Franklin Delano Roosevelt Park (FDR Park) in South Philadelphia from 11th- 19th June 2022. The theme for the show is In Full Bloom, showcasing the healing power of nature and plants.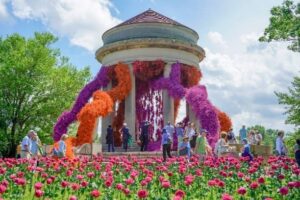 Philadelphia Flower Show, photo by K.Huff for PHLCVB
Celebrate all things beer at Philly Beer Week, the largest celebration of beer in the United States. The week is a perfect opportunity to sip suds with your buds in the City of Brotherly Love, where brewers have been crafting beer for more than 300 years. The 10-day festival includes beer tastings and pairings, competitions, and of course, plenty of happy hours at bars and restaurants throughout the city. Philly Beer Week is set for 3rd to 12th June, 2022.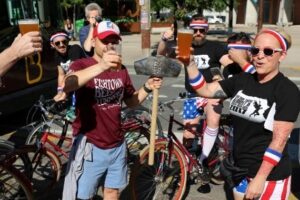 Above: Philly Beer Week courtesy of Philly Loves Beer
Celebrate July 4th in the city where it all began. Philadelphia honours America's independence like no other city in the nation with the Wawa Welcome America festival- 16 days of free multicultural and multigenerational family-friendly special activities and events including free concerts, free museum days, community events, free outdoor movie screenings, block parties and plenty of fireworks (Philadelphia's Fourth of July fireworks have been ranked most spectacular in America by MSN). This is the biggest free festival in the United States, running from 19th June to 4th July.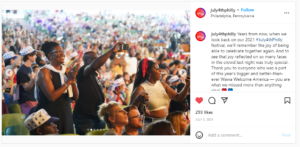 For current travel resources to Philadelphia, including details about the city's COVID-19 vaccine rate and guidelines, plus tips on travelling to and exploring the city click here.
ENDS-
For Further Press Information, please contact:
Anna Watt
anna@gregevansconsultancy.com
07815 898995
About Philadelphia Convention & Visitors Bureau
Philadelphia Convention & Visitors Bureau (PHLCVB), www.discoverPHL.com, a private non-profit membership corporation, is the official Tourism Promotion Agency for the City of Philadelphia globally, and the primary sales and marketing agency for the expanded Pennsylvania Convention Centre. The PHLCVB competes with its counterparts worldwide for convention and tourism business. The organisation has divisions dedicated to the multicultural, sports, and life sciences markets.