There are a number of ways visitors to Philadelphia can enjoy a more sustainable experience, whilst still enjoying the very best that the City of Brotherly Love has to offer. As the post-pandemic world moves to an ever more eco-conscious one, many still want to travel but look to reducing their impact on the environment as much as they can once they are at their chosen destination.
Philadelphia has a number of direct services from the UK and Ireland. American Airlines has two daily flights from London Heathrow and one daily flight from Dublin, British Airways offers one daily flight from London Heathrow and Air Lingus presently has a flight that runs from Dublin six times a week.
Explore on two feet
Philadelphia boasts one of the most walkable downtowns in the United States so there really is no need to rely on either taxis or public transport to explore.
WeVenture offers walking tours guided by local residents that focus on different themes, including history, art, and food sustainability. Other tours invite you to explore reimagined spaces, Philadelphia's Countryside, or Rocky movie locations to see where the iconic film was made.
Local tour company SeePhillyRun offers sightseeing tours for those looking to keep active. Tours include Philadelphia Highlights where you can run all of Philadelphia's main attractions whilst tapping into themes like liberty, inclusion, reinvention, pop culture and many American Firsts. On the Rocky Run you run through Old City, the Italian Market, South Philly, and up the Art Museum Steps while hearing unique Philly stories about Rocky and what it means to be an underdog.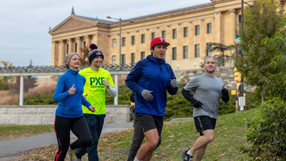 SeePhillyRun Art Museum Run. Photo Courtesy of SeePhillyRun
Explore on two wheels
Philadelphia's affordable and convenient bike share program, Indego, offers more than 170 stations throughout the city with both classic and electric bikes available allowing you to pedal through neighbourhoods or along the Schuylkill River Trail.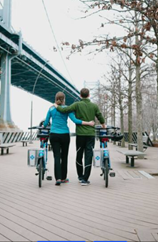 Photo courtesy of Indego
Click here for an interactive online map which highlights various bike lanes and trails throughout the city. There are also some custom Philadelphia bike itineraries as well as a guide to biking in the city.
The great outdoors
There are countless opportunities to enjoy the fresh air in Philadelphia, home to seemingly endless trails, riverfronts, parks and outdoor opportunities that are waiting to be explored, in fact the city boasts 10,000 acres of parks, squares, and recreation sites, making its urban park system one of the world's largest.
Fairmount Park, at over 2,000 acres, is one of the country's largest parks, consisting of 63 individual parks as well as more than 200 historic buildings, an impressive collection of public art, the country's first zoo and more, all within its borders.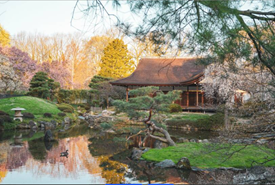 Shofuso Fairmount Park. Photo by Kyle Huff PHLCVB
The Delaware River Waterfront is a vibrant area to explore year-round. Opening on 6th May, Spruce Street Harbor Park has colourful hammocks, floating gardens, beautiful trees adorned in technicoloured lights, local craft beers, and delicious food from some of Philadelphia's most popular restaurants. Cherry Street Pier is a mixed-use public space converted from a historic pier, which hosts pop-up markets, art installations and a garden complete with tasty food and drink.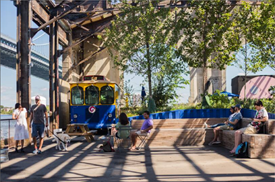 Cherry Street Pier. Photo courtesy of Kate Kelly
To read more about ways to explore Philadelphia's outdoor spaces click here.
Eco friendly accommodation
Kimpton Hotel Palomar Philadelphia is the city's only hotel certified by the Leadership in Energy and Environmental Design (LEED), a globally recognized symbol of sustainability achievement. Hotel Sofitel Philadelphia is working with Planet 21 in order to form a commitment to the planet, in order to help with environmental efforts, the hotel has implemented actions in regard to health, nature, carbon, innovation, and local purchases. Other options are the Radisson Plaza-Warwick and Sheraton Philadelphia University City Hotel which have both been awarded from the Green Key Eco-Rating Program.
Plant-based eating
There is an abundance of plant-based eateries throughout the city. HipCityVeg offers fast food inspired vegan menu items made with organic non-GMO soy ingredients sourced locally, Bar Bombon serves vegan Puerto Rican flavours, at The Tasty you find vegan versions of breakfast staples and you can try a vegan version of Philadelphia's iconic cheesesteak at Blackbird Pizzeria or Campo's Philly Cheesesteaks. For a more elevated dining experience Vedge has been ranked as one of Thrillist's 33 Best Vegetarian and Vegan Restaurants in America.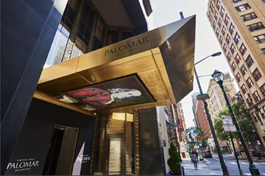 Eco Eats
Farm-to-table menus where restaurants source responsibly from local farms and producers to create unique regional meals are not hard to come by in Philadelphia. One of the first restaurants in the city to adopt this methodology is White Dog Café, which uses environmentally sustainable, organic and local foods sourced from farms within 50 miles. Talula's Garden, Fork and High Street Philly also prioritise local ingredients whilst Elwood also uses classic cooking techniques to showcase the culinary history of the Philadelphia region. At Urban Farmer Steakhouse they build personal relationships with local farmers, ranchers, fisheries, and foragers, considering everything from the diets and treatment of animals to land use, in addition they have a zero-waste mission, where they use the whole animal – from steak cuts and sausages to bone broth and stocks.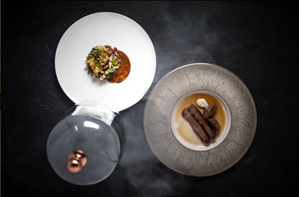 Sustainable sips
Many of Philadelphia's craft breweries offer work with eco production methods. Triple Bottom Brewing Company is Pennsylvania's first Certified B Corporation brewery, meaning it meets the highest verified standards of social and environmental performance, transparency, and accountability. Philadelphia's original craft brewery, Yards Brewing Company, has been in operation since 1994 and is also the first brewery in Pennsylvania to be 100% wind-powered, it now also features solar panels placed on the roof of their 70,000-square-foot brewery and taproom.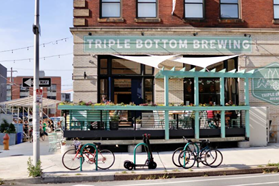 To read more about Philadelphia's top sustainable experiences click here.
For current travel resources to Philadelphia, including details about the city's COVID-19 vaccine rate and guidelines, plus tips on travelling to and exploring the city click here.
-ENDS-
For Further Press Information and high-resolution images, please contact:
Anna Watt – Philadelphia UK Office
Tel: 07815 898995
Email: anna@gregevansconsultancy.com
About Philadelphia Convention & Visitors Bureau
Philadelphia Convention & Visitors Bureau (PHLCVB), www.discoverPHL.com, a private non-profit membership corporation, is the official Tourism Promotion Agency for the City of Philadelphia globally, and the primary sales and marketing agency for the expanded Pennsylvania Convention Centre. The PHLCVB competes with its counterparts worldwide for convention and tourism business. The organization has divisions dedicated to the multicultural, sports, and life sciences markets.